Our Philosophy
Kids Kingdom, we strive to be a leading Early Years setting which offers a safe, nurturing, affordable home from home for children to develop and grow at their own individual pace.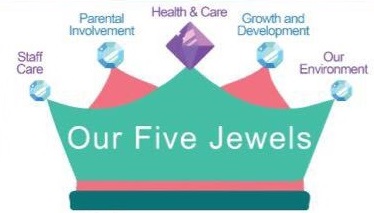 Our 5 key concepts at Kids Kingdom:
Health and Care
To provide a safe, clean and nurturing environment for little ones to develop. At Kids Kingdom, we aim to promote academic, personal, social, emotional, physical and creative development through the British EYFS Framework. We believe these skills will help every child reach their full potential in every way and give confidence to the children in our care.
Growth and Development
At Kids Kingdom, we provide friendly, comfortable and safe environments which children will find stimulating and challenging. We believe that children should have a childhood full of play and investigation, discovery, and trust in a loving and creative environment. At Kids Kingdom, we provide quality learning and care for all children regardless of abilities, disabilities, race or religion.
Parental Involvement
We are proud to have a diverse variety of cultures at Kids Kingdom and recognise that each child is unique and 'every child matters'. At Kids Kingdom each child, parent and nursery member are treated as an individual. We understand that parents are the most important people in a child's life. Hence, we consider parents to be key members of our team. Communication with parents is an essential tool to help us provide the most effective teaching and learning practices at the Centre. We encourage all parents to become involved in the everyday life of our setting. We also understand the limitation of working parents so offer flexible modes of communication. This ensures we can work together to help your child to develop and succeed. We respect the role of the parents and aim to build positive relationships through open and honest communication on a daily basis.
Staff Care
Our Centres staff are hand picked for their kind and caring nature, experience and qualifications to ensure that your children are cared for in the best possible way. Every classroom at Kids Kingdom has at least 3 members of staff, to supervise your children while they are at the centre. Our Class teachers are experienced and qualified to deliver the EYFS Framework and its 7 areas of learning. We train our staff in house and with reputable training centres in the UAE to ensure our standards are kept high and your child's safety and development is our top priority at all times.
Our Environment
At Kids Kingdom we offer children and their families support to ensure the children in our care have the best possible start to life. Our open door policy is in place to ensure that communication is always open between you, your child's carer and our staff. We ensure our environment has spacious classrooms with natural light and are equipped with high quality resources to aid your child's learning at our centres.